Finished reading Scott McCloud's Making Comics. Really enjoyed it, and the timing's perfect... Zeus Comics is hosting a signing with Scott on Saturday, February 10th from 5 to 7 as part of his 50 State Tour. For my dear friends in the Austin area, he'll be at Austin Books on February 17th. Any other tour dates, you'd have to check Scott's website. He should be somewhere near you, sometime this year.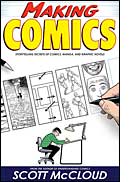 I liked this book, because it felt like a synthesis of his previous two books, Understanding Comics and Reinventing Comics, with new ideas and some older ideas clarified and elaborated.
I will admit the writer/artist section was a little empty. I don't know what I was expecting, but obviously, the book's more for those who draw the pictures than those who write for the people who draw. And understandably so, they are the ones making the comics. That's not to say a writer/non-artist wouldn't benefit from Scott McCloud. Hardly. Making Comics is required reading for any comic book writer, because it's vital to get a thorough grasp of the entire process. Specifically, this book will help you be more comfortable and capable with your panel descriptions.
I'll be honest. I have a problem with comic book writers who don't work in full script with page and panel breakdowns. It's difficult to confess, because I'm probably pointing the finger at some of my own friends, and people who are (in truth) better writers than me. I understand the collaborative effort may take a different shape, depending on who you work with. However, to me, there's a drastic difference between writing comic book scripts and telling stories which you want the artist to adapt to the comic book form. If you're just feeding plot points and dialogue, I feel like you're standing on the edge of the medium, peering in, instead of really learning the craft. I'm not saying you enslave the artist with the demands of your script. Comic book writers need to show enough confidence in their creative vision to earn the trust of the artists they work with. On page 149, "Writing comics scripts is an art unto itself."
I guess the quibble I had with Scott McCloud's writer/artist section was the ever-so-slight implication that writers are in charge of words, while artists are in charge of pictures. It's a little more complicated than that, and the book attempted to elaborate, but it came back to a words vs. pictures dichotomy, i.e. in the writer-versus-artist syndrome, the writers are yearning to win the reader over with "evocative prose". Really? If I wanted to write prose, I would write prose. I want to write comics. Even the most arrogant writers yearn for something visually compelling. Maybe I'm being naive? It's not uncommon.
On page 255: "Learn from Everyone. Follow No One. Watch for Patterns. Work like Hell." Probably the best advice you could give any writer. For awhile, I've been thinking about listing some of the storytellers I've learned from. These are the people who I observe while taking careful mental notes. Or sometimes, like in the case of Joss Whedon or Akira Kurosawa, literally watching their work with a notepad on my lap. Since I mentioned Woody Allen in my previous blogpost, why not throw down a few more names?
(In no particular order) Wes Anderson, Charlie Kaufman, Brian Michael Bendis, Akira Kurosawa, Joss Whedon, Alan Moore, Walt Disney, Mark Millar, Scott McCloud, Will Eisner, Billy Wilder, Alfred Hitchcock, Mark Waid, Paul Feig, Warren Ellis, Ricky Gervais and Stephan Merchant, Greg Rucka, Woody Allen, Sophia Coppola, Nunzio DeFilippis and Christina Weir, Antony Johnston, Douglas Coupland, Stephen King, J.K. Rowling, David Sedaris, Ira Glass, Sarah Vowell, Craig Thompson, Hayao Miyazaki
There's more, but I'll add to it later.